Choose your location to see content specific to you.
Bedford Motel
About the hotel
Located in historical downtown Bedford MA, home of the Oldest Complete Flag in the US. Bedford Motel, a Magnuson Hotels affiliate, is five miles from the Burlington Mall, Minuteman National Park, the Heritage Museum, Concord, and Historic Lexington Center and Boston only 23 miles away. Guests can find exceptional clean ground floor accommodations overlooking the courtyard, complimentary coffee, a microwave, and 24-hour front desk in the lobby with Free WIFI access and Free Secured parking.
Services
Internet Access - Complimentary
Room Availability
Sorry, there aren't any rooms available for the dates you've selected. Please try choosing different dates.
Things to do
Tours and Attractions
Boston To Martha's Vineyard Day Trip
New England Excursions is a veteran owned coach services to Martha's Vineyard. Our ease of booking, convenient pick-up and drop-off locations and comfortable, air-conditioned coach will provide you with a memorable experience. You'll enjoy a smooth ride from Boston to Woods Hole where you'll board the Steamship Authority with no hassle at all, seating GUARANTEED. Don't feel rushed getting to the island, and don't waste your day standing in lines. As always, round-trip ferry tickets, snacks, water, island maps, discount food cards and commentary are all free of charge. 
Our island tour experience is breathtaking. You'll have a wonderful 3 hour, full island tour in one of our 14 passenger air-conditioned, high-top vans. This tour goes through all 6 towns on the island with stops along the way for snacks and pictures. Our guides are the best in the business with over 5 decades of island experience. 
From: $ 97.00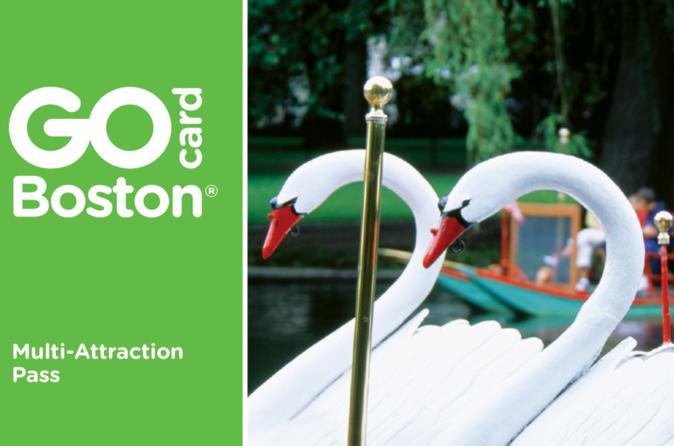 Go Boston Card
Explore Boston your own way with the flexible Go Boston Card. Do as much or as little sightseeing as you like, at your own pace while saving precious vacation dollars. Receive free admission to popular Boston attractions, and enjoy discounts on shopping and dining around town. Enjoy direct entry to attractions. Simply save your pass (available as your 'ticket' after purchase) on your mobile device and go – no voucher redemption required!
From: $ 63.00