Choose your location to see content specific to you.
Express Inn Knoxville
About the hotel
The Express Inn Knoxville is located near Knoxville Expo Center, Market Square District, Tennessee Riverboat Cruises, Knoxville Convention Center, Knoxville Civic Coliseum & Auditorium, University of Tennessee, University of Tennessee Medical Center, and Ft. Sanders Regional Medical Center.
This Magnuson Hotels affiliate offers guests a Continental breakfast served from 6 am to 9 am, free high speed wireless internet access, free parking with room for large vehicles, fax/copy service, guest laundry and pets are welcome with additional charges.
Services
High speed internet access
Room Availability
Sorry, there aren't any rooms available for the dates you've selected. Please try choosing different dates.
Things to do
Tours and Attractions
Operation City Quest Scavenger Hunt - Knoxville, TN
Operation City Quest is an open world scavenger hunt, in which you use your smartphone along with a remote guide to seek out 150+ items including monuments, statues, and unique points of interest.  Challenges and trivia from your guide makes Operation City Quest fun for the whole family. This downtown adventure game is played for two hours while walking about 2 miles.

From: $ 10.00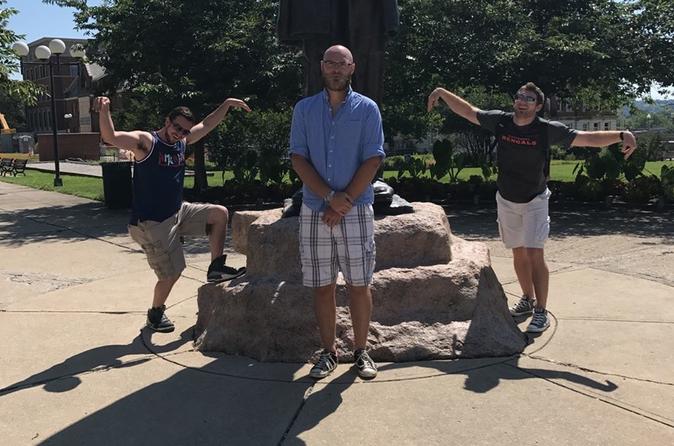 Zombie Scavengers Game - Knoxville, TN
CAN YOU SURVIVE THE ZOMBIE APOCALYPSE?
Zombie Scavengers leads you into the city to collect supplies to survive during this interactive scavenger game.
With the whole world in chaos and zombies outnumbering the living 10 to 1, small colonies of the living are doing all they can to survive. Using your smartphone, your team will be tasked with scavenging the city for food, supplies, weapons, and shelter. The more things you find, the more points you get and more likely you are to survive. Along the way, you will be asked to do a challenge or answer a trivia question in order to be rewarded virtual weapons to ward off the zombies. The area is crawling with relentless zombies, and rival colonies are moving in. If you get too relaxed, rival colonies will take what you worked hard to find. The goal is to find all of the items in hopes that you will survive the zombie apocalypse.
From: $ 20.00
Points of Interest
Area Highlights
| | |
| --- | --- |
| ● | Fort Sanders Regional Medical |
| | |
| --- | --- |
| ● | Knoxville Municipal Golf Course |