Valentine's Day Giveaway: 2-Nights Stay at Magnuson Hotel Port Allen
February 9, 2012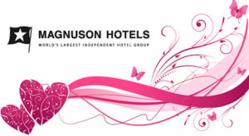 Magnuson Hotel Port Allen offers a free two-night Valentine's Day hotel stay to one lucky couple that enters the Magnuson Hotels' Facebook sweepstakes.
The sweepstakes begins Sunday, February 5, 2012 and ends on Saturday, February 11, 2012. The drawing will take place February 12, 2012 and the winner will be announced online and via email the same day. The winner will get a free two-night stay at Magnuson Hotel Port Allen, with complimentary champagne and chocolates.
To enter the sweepstakes, participants are invited to find Magnuson Hotels on Facebook, enter the Magnuson Hotel Port Allen Valentine's Day giveaway on Facebook, and describe how they imagine the perfect Valentine's Day.
To be eligible, all entries must be submitted by the closing date, on the sweepstakes page. No purchase is necessary to participate. Participants must be over 18 years old and legal residents of the USA or Canada. There will be only one winner, selected at random via draw. The winner will be awarded with a 3 days-2 nights stay for two at Magnuson Hotel Port Allen, free of charge, between February 14 and March 4, 2012. Guests will also enjoy free hot Continental breakfast served from 6 am to 9 am, free pass to local fitness center, free high-speed wireless Internet access, free parking and room service from 9 am to 3 pm. Complimentary chocolates, and champagne are also included. The prize is not redeemable in cash, and must be accepted as awarded.
About Magnuson Hotels, the fastest growing hotel chain in history.
In only eight years, Magnuson Hotels has become the world's largest independent hotel group, representing nearly 2,000 UK and North American hotels with assets in excess of $5.5 Billion. One of the top 8 global hotel chains, Magnuson Hotels is the #1 Hotel Company of Inc. Magazine's 5,000 fastest growing private U.S. companies.
For more information, contact:
Magnuson Hotels
info@magnusonhotels.com
866.904.1309
www.magnusonhotels.com